For those of you sick of the dog already, my apologies, but it is only going to get worse. Maybe we can work with Cleek to make a pie filter for Lily posts and I will just put something in every post so that it automatically skips it. At any rate, some pics from Day 2 on the rails to trails path.
These aren't the best pics, because juggling a camera while trying to get a timid dog who doesn;t know her name to look at you while people are whizzing by on bikes is not the easiest thing, but here she is with her timid face:
I was really excited about this picture, because her tail was up and curled and you would get a look at it, then at the last second she tucked it down between her legs in timid mode: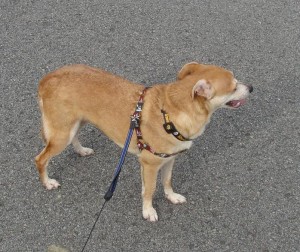 And here she is, for some reason, riding on the floor on the way home. Normally she sits right on the passenger seat, but who knows what she is thinking: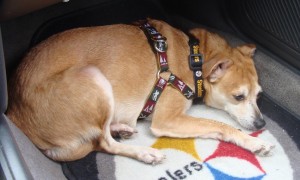 At any rate, I am seeing signs of life and I can see her becoming less timid by every minute. other than my parents Jack Russell's, I am so used to willful and disobedient dogs that Lily is a weird experience so far. The entire time we are walking, she is looking to me for affirmation. I have a hunch she is going to be really easy to train.
I got stuff to do, I'll be back this afternoon.