Got home from work, opened the door to my bedroom to get Lily out of her crate, but there is no doggie there. I look up, and this what I found lounging on my bed: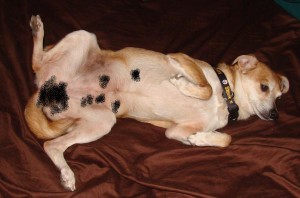 I've taken the liberty of airbrushing out the naughty bits so we don't have any NSFW problems. It looks like Lily is starting to get comfortable around here. That look on her face is one that Irie used to get all the time that I called the "woebegone doggie" look, and usually followed him doing something he knew he shouldn't be doing.
We'll just use this as an open thread with some quick hits:
1.) Game 7 of Pens v. Wings tonight. Set your clocks.
2.) According to NPR, it is the 50th anniversary of Time Out
by the Dave Brubeck Quartet. It is also the 50th anniversary for Kind of Blue
. Two of the best selling commercial jazz albums in one year.
3.) Also via NPR, I heard a piece about Magos Herrera's album Distancia
last week and immediately ordered it on Itunes. It is outstanding.
4.) This is going to be one of those things I write that causes people to write in the comments- "OMG COLE, YOU WILL COMPLAIN ABOUT ANYTHING." And, to be honest, that is true. But this still needs to be said- the last five toothbrushes I have purchased have inexplicably exploded in my mouth, leaving bristles all over the place. I have never had that happen before the past month and a half. And no, I have not changed how I brush. Why am I telling you this? Because it is my blog, damnit.
5.) Any suggestions for gum that is not bad for your teeth but tastes good now that I have to cut the xylitol out of my life?
6.) Also, does anyone know of a water bottle that comes with a bowl like attachment for a dog to drink out of. I'd like to be able to take Lily for longer walks once I get her strength up, but I need to be able to water her. Thanks in advance. And no, my google is not broken, I just know that you guys always have some sort of experience with what I am looking for and it saves me from making a purchasing mistake to learn from your experiences.
7.) What on earth is going on with David Brooks? Sometimes he seems completely and totally insane and writing from another universe, and other times I read him and he sounds like he is actually writing about the same planet that I call home. I just heard him with EJ Dionne on NPR, and he seemed thoughtful, reasonable, and sane. Any clues.
You are on your own. I'm going outside to get some air.