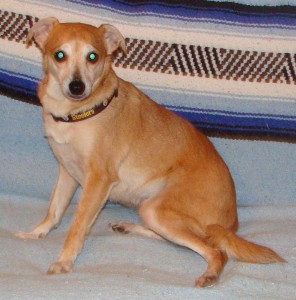 In my ongoing effort to keep and maintain a high quality and classy website, I am pleased to announce that during our morning constitutional, Lily finally, after 60+ hours, did a #2, and it was a beauty. Quite honestly, I'm not sure where she was keeping it. At any rate, that is a relief, as I was beginning to get concerned. I guess she is starting to get relaxed, which is good.
I'm startingto see some of her personality come out. She still spends most of the day willingly in her crate (I never shut the door, figuring she needs her safe personal space) or down at my feet under the desk, and doesn't explore the apartment much, but I'm sensing a real difference. When I woke up this morning, she was passed out in her crate, but unlike before, she had a very open body posture. When I go to get her out of the crate, she doesn't look petrified, and when I talk to her, her ears perk up and I see recognition.
For those of you looking at the picture and saying "She doesn't look very relaxed," well, she does by comparison, and also I just violated her before taking the picture. I rammed a pill down her throat, then gave her a beaker full of liquid penicillin, and then inspected her for ticks, so she is wondering what is going on.
She also is much more animated when we go for walks, and is starting to explore while we are out, sniffing and what not. She still has moments when she startles and tries to make a break for it with her tail between her legs, but this is happening less frequently. She is also not freaking out as much when a biker whizzes by us on the trail.
She still doesn't recognize her name, but I am spending a lot of time just saying it when I am around her. I figure if I just keep saying Lily when she is looking at me and I am looking at her, she will figure it out eventually.
At any rate, getting Lily is turning out to be the best decision I have ever made. I've got work to do, you are on your own till later this afternoon (unless Doug, Tim, and Anne have something to say).