Rails to trails, garden, market.
And lilbrit, if you are around, I have a gardening question.
Also, this pic came in the email yesterday, and it looked like a postcard to me: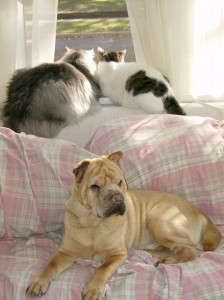 I like that the cats are all concerned about anything moving outside, and the dog is focused on quality time on the couch while making sure no one drops any food.
*** Update ***
Got some rhubarb, a shitaki mushroom branch to throw in the woods behind the garden, some fresh tomatoes, and some beef (pound of ground beef, one ny strip, one ribeye) for my grilling needs the next month. Was a really good turnout today and Lily was very well behaved. She is just so good with kids. I'm thinking maybe in a couple months after obedience school, I should look into training her to visit kids and the elderly in the hospital. Her disposition is just unbelievable. Here is apic with her the other day and my friend's kids: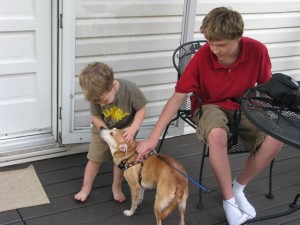 Sweetest doggie EVAH!