Just got back from a long walk with Lily, and she is really starting to come out of her shell the past two to three days. I'm starting to really get a sense of her personality, and she is starting to get playful. Here is a pic of her on the ride over to rails to trails: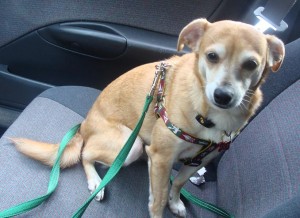 Lily is at her absolute best when she is walking, but I'm noticing improvements around the house, too. She came out from underneath the desk to let me put the harness on her yesterday (only took five minutes of coaxing), which is a marked improvement from me having to get on all fours and drag her gently out. She also almost came to me from the other room when I yelled, but stopped at the last minute and I just couldn't get her to go the extra few feet. Baby steps, I guess. Last night she even left the bedroom and study and came to lie on the couch with me for a bit, and that was a big step.
But the biggest change is her confidence while walking. Not only is she not timidly looking back at me to see if I am going to hurt her the whole time, but now she is looking back at me confidently with her tail in the air. She no longer freaks out when people go by on their bikes, either. She still has no clue what to do with balls or toys, but her more playful side is starting to come out. Her favorite game is while we are walking, and I was trying to describe this to someone earlier, but she starts to get all proud and hold her head up and start to almost prance like a horse on its way to the starting gate. I'll then start saying "Who's a good doggy? Who's a good doggy? LILLLY!", and she starts to get all excited and bounces up and down, and does that cute dancing dog thing. Here is a series of her doing just that (also, check out that curled tail!):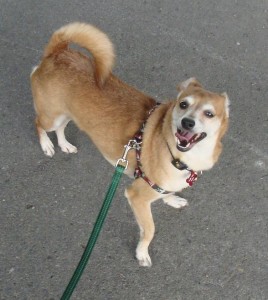 More after the fold…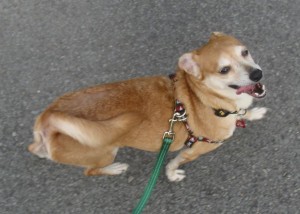 Check out this tongue action: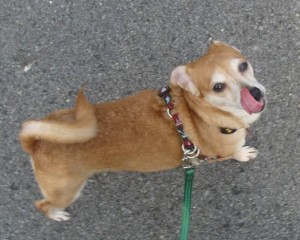 Here she is doing the little tap dance I was talking about earlier, and I'm really hoping I can train her to go from there to jumping up into my arms on command: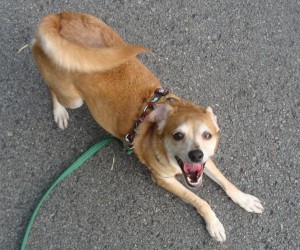 This picture got cut off, but you can really see her prancing: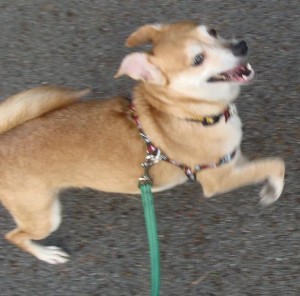 And here she is just being silly Lily: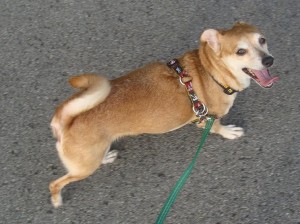 And now, the last quarter mile, dragging a wee bit: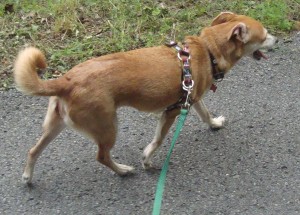 At any rate, I think we are making really good progress. I can tell she is getting better, and I know she has the instincts, and this may sound silly, but I honestly feel like I am having to coax the dog out of her. It is in there, and she knows instinctively how to be a dog, just no one ever let her or showed her. I'm thinking we will totally be ready for obedience school in two weeks.