This is Lucie.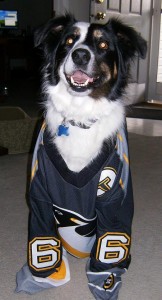 Adorable Lucie is a Red Wings fan.
"But," you say, "she is in a Penguins jersey!"
Yes, yes she is. And she can thank her daddy for that, who foolishly made a bet with a certain Penguins fan before the Stanley Cup Finals.
The innocents always suffer.
Consider this an open thread.