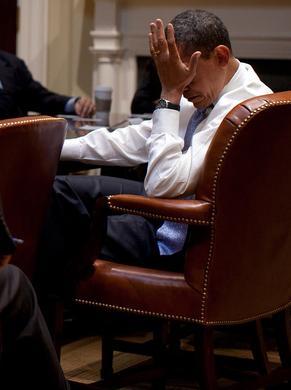 Your United States Congress:
The House overwhelmingly approved a resolution Friday in support of Iranian dissidents as that country's top cleric warned protesters to end demonstrations.

The resolution was approved in a 405-1 vote, with two members voting present. Rep. Ron Paul (R-Texas) was the only lawmaker opposed to the resolution. Reps. Keith Ellison (D-Minn.) and David Loebsack (D-Iowa) voted present.
They simply just can not keep their mouths shut, and rather than working on issues within their authority, they waste everyone's time with this nonsense. Additionally, the administration had to scramble the troops to water down the resolution from the one wingnut in chief Mike Pence was offering:
The White House worked with House Democrats to moderate a fire-breathing resolution circulated by Republicans to rebuke Iran for its post-election crackdown on dissent, according to an Obama aide.

The new resolution, similar to a version introduced in the Senate, "condemns the ongoing violence against demonstrators by the Government of Iran and pro-government militias, as well as the ongoing government suppression of independent electronic communication through interference with the Internet and cellphones."

It's expected to pass the House today.

The language, while relatively strong, is a toned-down version of the resolution pushed for by House GOP Conference Chairman Mike Pence (R-Ind.).
There was no point in offering this resolution, and I bet that Iran and the rest of the world will find any resolution about as compelling as the Bush administration found the Berkeley City Council's vote to impeach Bush and Cheney.
Only Ron Paul voted against it.