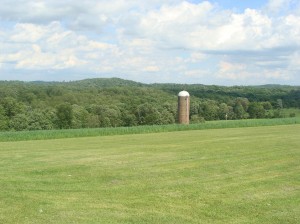 Farmland off Route 88 North
West Virginia was formed today in 1863. I'm too tired to do the math, but I think that means the state is older than even John McCain. A great place to live.
Took Lily home to meet the parents, since they are going on vacation tomorrow and I have not been there for a while. Took a bunch of pictures, and while she was timid at first, Ginny, Guesly, and Lily got along just fine. I took Lily to the park to run, and she had a great time, but I forgot the camera. She was zooming all over the place, found some good stuff to roll in, ran through the creek and then jumped into a pool of tepid water and decided to jump all over me. I'll have some more pics up later, because I am just pooped and I want to go find out what happened in Iran today, but here is a quick one: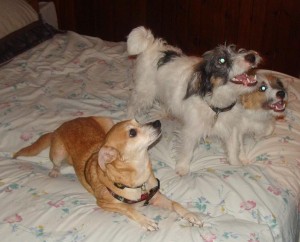 Between our walk this morning before we left and everything we did today, Lily is just exhausted and did not even lift her head on the way home. I opened the door to the house, and she didn't even wait for me to take her harness off, but instead went directly to her doggie bed.
*** Update ***
Tired dog is tired: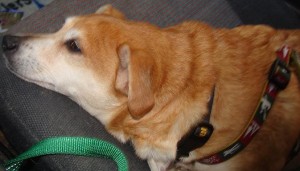 Rails to trails for an hour this morning, then a drive to the parents, then a walk around town, then play with two Jack Russell puppies, then a long romp around the park, followed by another walk, then a drive home, then off to the dog park for an hour. She was so tired at the dog park that I was there talking to other people, and realized I had no idea where Lily was. I turned around, and she had climbed up on a fallen log and was asleep. Figured that was the end of the day for her, and the pic is from the ride home from the dog park.