Steve Benen makes a very good point about who's really in the OBAMA SHOULD BE DOING MORE crowd:
Of course, shortly before George Will's remarks, there was Sen. Lindsey Graham (R-S.C.), blasting the president on the same program for being "timid and passive" when he'd like to see Obama "speak truth to power."

…seeing Will and Graham on opposite sides of this reminds me of a point that often goes overlooked: we're not dealing with a dynamic that pits the left vs. the right, or Dems against Republicans. Rather, this is a situation featuring neocons vs. everyone else.

You'll notice that President Obama's strategy has not only been endorsed by Democratic lawmakers, but also prominent Republicans who are in office (Dick Lugar), served in Republican administrations (Henry Kissinger, Gary Sick, and Nick Burns), or are prominent Republican voices in the media (George Will, Peggy Noonan, and Pat Buchanan).
Neoconservatism is a fringe ideology. It's even difficult to find Wise Old Men — of the sort who co-chair Baker-Hamilton, Daschle-Dole style blue ribbon panels — who subscribe to it. Normally, that dooms an ideology to obscurity, regardless of its merits. But neoconservatism is different, and I don't know why.
If you want to get a good feeling for how kooky the whole neocon outlook is, I recommend reading about the J curve: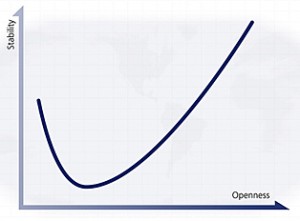 The idea is that by introducing instability to a repressive regime, you initially make things worse in terms of both stability and openness, but then, once you hit rock bottom on both, you start to get better on both. This explains why it's a good idea to completely destabilize countries, rather than hope for any kind of gradual reform.
Let me pose the following question: has any policy good ever come from the discussion of curves? Laffer curve, Bell curve, J curve. What is it about a picture of a curve that strips all intelligence and reason out of a discussion?
My guess is that they have mystical pull which leads people to believe they encapsulate some general truth that EXPLAINS EVERYTHING, the same way that the writings of Adam Smith, Ayn Rand, and the Founding Fathers do, only better, because graphs are more both more reductionist and more faux scientific.
Update. In the interest of fairness and accuracy, I should include framing as one of the things that EXPLAINS EVERYTHING. There's no need to be too partisan about this.
Update. Commenter Redshift makes a good point:
I think the mindset behind these "curves" is similar to that of various "doctrines"; the problem comes from the belief that the curve itself is a fundamental truth, rather than an illustration of underlying data (which can then be debated, falsified, etc.) This is why they are always shown with no units, not even at the maximum. For example, the Laffer curve shows the no-brainer that there is a level of taxation where it is possible to cut taxes and raise revenue; take away the scale, and you can make the argument that cutting taxes from where we are now raises revenue (if you're either intellectual dishonest or in the throes of confirmation bias.)

Compare this to the so-called "hockey stick" global warming graph. To scientists, this is just an illustration of data, and the underlying data is what's up for debate. To wingnuts, it's a major point of debate; if they can "prove" that it is in any way incorrect, then global warming is a lie.