100% not posed: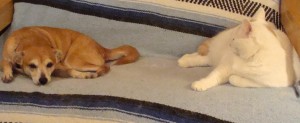 I turned around and there it was. Thank goodness the camera had charged batteries and was right next to the computer, so I did not need to move.
I like how they are exploring all the space of the futon. You can still see a pile of furmination remnants in between them. They are using it as a border, I think.
And I hate posting this, because I know you pricks are going to pick on Tunch's not-so-girlish figure and that will upset me.