I'm not sure who many of you have been following the fallout from the Nico Pitney/Dana Milbank appearance on Howie Kurtz's Reliable Sources, in which Milbank whispered to Pitney "You are such a dick" after their segment was over, but it is pretty damned funny:
Twitter, as of yesterday afternoon, has a new a new hashtag: #Dickwhisperer. Nope, not a typo: #Dickwhisperer. This being a reference to the exchange—entertaining, granted, but only by virtue of its supremely cringe-inducing awkwardness—that took place between Huffington Post editor Nico Pitney and Washington Post columnist Dana Milbank on yesterday morning's Reliable Sources. The exchange that became so heated and, finally, so insult-driven that, during the show's commercial break, Milbank apparently leaned over to Pitney and whispered, "You're such a dick."
A google search for #dickwhisperer turns up all sorts of fun stuff, including this, which kind of made my day: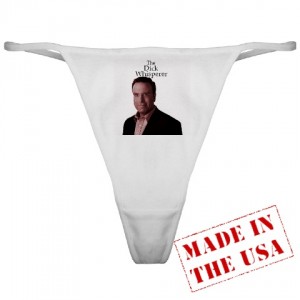 Someone seriously needs to write a song about this.