Tom Levenson, friend of the blog and MIT Professor of Science Writing, has a new book that fits neatly in a growing but still unnamed literary niche, one that transplants already perfectly famous historical figures into a hyperbolic action-thriller setting. One of my favorites in the genre pits Mark Twain, Nichola Tesla and Bertha von Suttner (you may need to look that last one up) against JP Morgan, Guglielmo Marconi and others trying to open a demonic gateway to hell.
My own entry would go something like this.
The setting: America. While World War II rages across the oceans, another war quietly builds at home. Fueled by prohibition, modern technology and detective work that still has one foot in the nineteenth century, organized crime has exploded from a nuisance to a mortal threat. FDR cannot admit the extent to which mobsters have penetrated his government or the antediluvian state of forensic science. Al Capone has hatched a bold but credible plot to install his own agents at the top of the FBI. Desperate and nearly overwhelmed, the United States turns to the only man who can bring hoods and hooligans back under control: Albert Einstein.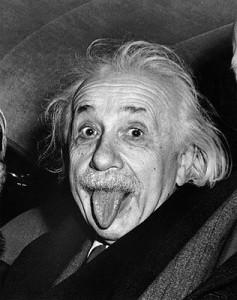 Eager for a break from academia, Einstein maps the American underworld in unprecedented detail. The new sherriff catches less careful gangsters totally by surprise. Gradually the prisons swell with small-time sharks and potential informants. However, major problems remain. For one, the march of technology has provided criminals with tools that law enforcement agencies have not even started to grasp. For another, big fish like Capone understand the danger well enough. Nonetheless, Capone's ambitions launch him into an epic contest of wits against Einstein himself. To win Einstein must modernize forensic science and bring down history's greatest mobster. His reputation and the future the United States hang in the balance.
Normally I could admit that no publisher in his right mind would consider a turgid precis like that. But now that I've read Tom's book, I won't do that. That crazy stuff actually happened. Even the superlatives.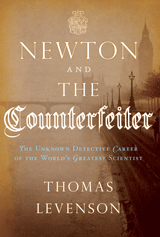 Levenson plays with a series of story elements that each would make a fine topic for one of those OCD books that belabor a single topic (salt, cod, Pi, zero, the low-top beige Converse All-Star). Some of you might know that Isaac Newton (yes, that Isaac Newton) managed the English mint for a while in the late seventeenth century. Some might also know that England faced a currency crisis at the time; something to do with the lopsided value of silver on either side of the Channel. Also relevant: the Bank of England was founded around that time, to support a war, and issued what we now know as the first government-backed paper money. That and the crude medieval coins that still circulated created an epic market for counterfeiters and a number of other currency scams.
When you add these things together with new information about Newton's detective life that Levenson uncovered with original reporting, you have a bizarre, gripping crime story that is completely true. Counterfeiting and terrible currency management almost brought down the British empire. Isaac Newton in fact crafted what might be the first recognizably modern monetary policy, he modernized the mint and in his spare time he personally jailed much of the English counterfeiting community. A gifted counterfeiter named William Chaloner did make a play for control of the mint itself, and if not for the mint's Warden he appeared more likely than not to win. In a position like that, with England mired in a war that already wrecked the economy and saddled with terrible monetary policy, Chaloner could have condemned the Empire and made himself almost unimaginably wealthy.
Levenson's deft writing style makes me feel a little guilty for indirectly linking it with the dross that I wrote above. His chapters, which alternate between top-down perspectives on the initially separate lives of Newton and Chaloner, transition with a verbal and conceptual wit that recalls the spectacular conclusion to Louis Menand's Metaphysical Club. The book is a one-handable read (this is important for people like me who stand on the bus a lot); the pace moves briskly and compacts necessary historical digressions into paragraphs that keep the narrative going far better than footnotes or Melvillian soliloquies would do.
Those who enjoy science biography, crime drama, narrative history, monetary policy or comics where Jack Kerouac and James Watson go back in time and punch robo-Hitler should definitely check out this book.
***
As with all things in life, a greater sense of satisfaction can be had if you buy it through the Amazon link at top right.
***Update***
Several commenters have asked about Neal Stephenson's Baroque cycle, which apparently also covers Newton's tenure at the Mint. Tom mentions in his book that he scrupulously avoided Stephenson's work to make sure that Stephenson's characterizations did not influence his own.