My sister's Mastiff, Kuma: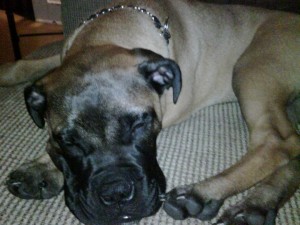 My other sister's dog, Huck: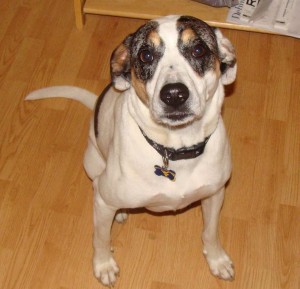 And now the whole gang- Ginny, Guesly, Lily, and Huck: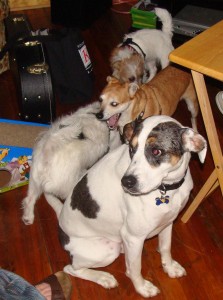 Sorry for the lack of posts this weekend- just been super busy. Father's birthday on Friday so we went to Pittsburgh for dinner to meet the family, then a bunch of stuff and a party for a colleague, then today the folks came into town and we went and did a bunch of stuff.
Lily outdid herself tonight on the trail, btw. I turned around just in time to see her two two shoulder lunges on each side into a pile of who knows what, and then, even at distance, when she shook and I saw piles of crap fly, I knew it was going to be bad. It was worse than I imagined. A girl was riding by on her bike and almost wrecked she was laughing so hard at me- "LILY, NO! PLEASE. NO! LILY. Oh lily, oh godamnit." I walked her down to the place where folks put their boats in the river, and I'm surprised someone did not call the cops on me- it looked like I was trying to drown her, because she had it all over her. I was not letting her in the car like that. I've really never smelled anything quite that bad.
Her collar and harness are soaking in a bucket on the porch.