I hate to dwell on Bobo too much, but tomorrow's piece is sure to get a lot of play among the chattering classes, in large part because of the title, "Liberal Suicide March". Brooks engages in some remarkable revisionism:
It was interesting to watch the Republican Party lose touch with America. You had a party led by conservative Southerners who neither understood nor sympathized with moderates or representatives from swing districts.

They brought in pollsters to their party conferences to persuade their members that the country was fervently behind them. They were supported by their interest groups and cheered on by their activists and the partisan press. They spent federal money in an effort to buy support but ended up disgusting the country instead.
No mention of the Iraq war — that's bold even for Bobo. Let's say this plainly: the country initially turned on Bush — and by extension the Republican party — because of the Iraq war.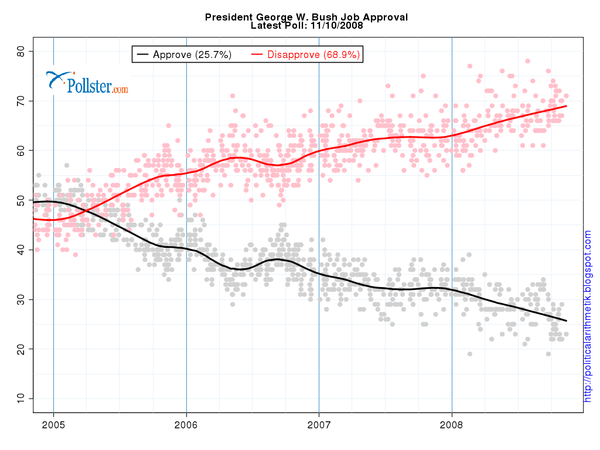 He was in negative territory by early 2005 and there's little doubt that it was primarily because of the war. What else could it have been? The economy wasn't bad, the press still loved him, Katrina hadn't happened yet.
There is no way the Republican electoral disasters of 2006 and 2008 would have happened if Bush had had a healthy approval rating. And there's no way his approval rating would ever gone so low without the Iraq war.
Southern conservatives make an easy target. They have funny accents, they're brazenly hypocritical, they use colorful expressions like "hiking the Appalachian trail". But the decline and fall of the Republican party was caused as much by bespectacled U. of Chicago grads as by helmet-haired good ole boys. Brooks must know this.