I think this is the third weekend I have made it without watching the Sunday shows and instead have done something different in the morning. Today I just went to the rails to trails with the dog, then worked on stuff I would normally do on Monday while watching the history channel. I felt better for it, although I may have wondered what President McCain thought once or twice.
Spent the afternoon working, and went to Petco with Tammy and Sam and Lily, because that is where the pets go. Everyone behaved and I got Lily a new collar. I am gonna keep the Steelers collar for game day, but I think the new one looks better for everyday. The new collar: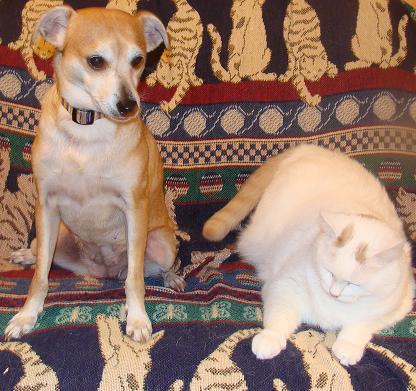 For dinner, I went to Brian and Tammy's again, and we had a spectacular meal. My uncle (who was a WWII navy vet and is super cool) and my cousin went fishing in Alaska last week, and they caught several hundred pounds of halibut and salmon, and a bit of it found its way to my house, so Brian cooked up a feast. So delicious, and the difference is just unbelievable. The salmon was cooked with a beurre blanc, and the halibut was served on a bed of spinach with mushrooms and tomatoes. It was to die for, and the texture was unbelievable. The fact that the meat was so perfect is a testament to how flash-freezing fish as it is caught preserves the cell structure. Probably one of the best pieces of fish I have ever had. The chef deserves mad props, too.
After that, for fun, we chilled with the dogs and watched Goodfellas. The temperature outside was perfect.
Today was a good day. I got work done, I hung out with my dog, I hung out with my friends, I just got off the phone with mom and dad and they are doing well after spending the week in Pittsburgh celebrating the 41st anniversary, and sitting here right now before I got to bed, I just realize how damned good it all is.
This really is a good thing we humans have going.