Caught Lily in the middle of a solid pre-game scratch: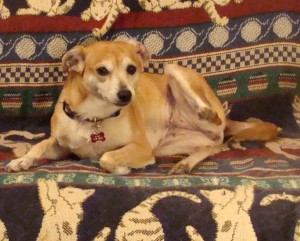 You may not recognize it yet, but that is her game face.
*** Update ***
I forgot all about the menu:
Unnamed Pasta Dish
Loaf of Bread
Apple & Blackberry Crisp
I've never had unnamed pasta before- sounds exotic. Lots of carbs in this meal, though.
*** Update #2 ***
By popular request, proof of life:
And for the haters, here is another one, with nothing but him bitching:
It's cute for about a minute.