Normally I don't bother checking Kevin Drum's graph work because he has done it professionally for longer than I have, and he seems quite good at it. The rare exception is a post last night that I think gets a pretty important point wrong.
Recently a British firm tracked the most influential voices in the health care debate. Here is the graph, with influence on the vertical axis (higher is better) and positive/negative opinion of the British NHS on the horizontal. Kevin added the 'liberal blogosphere' venn circle in post.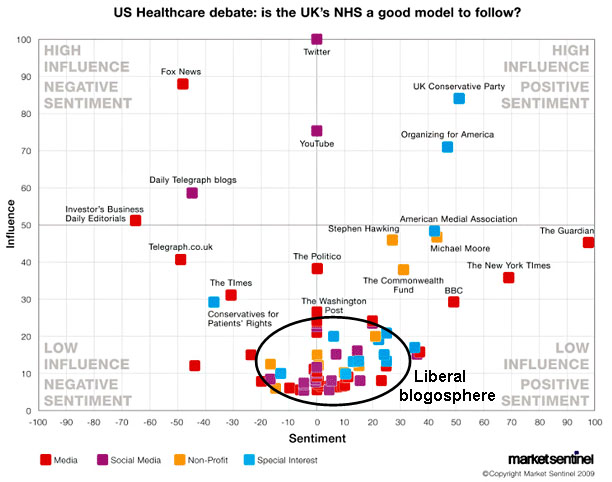 Kevin makes two conclusions concerning netizens like us. He finds the influence of Twitter depressingly high, and and he finds the liberal blogosphere's influence depressingly low. Here is why I think that neither conclusion holds water.
About Twitter, it is slightly unfair to compare an individual news outlet such as the Guardian to Twitter, which is basically a communication medium. Since the British firm almost certainly used online linkage and quoting to estimate influence* and Twitter is used by practically everyone who has both a pulse and an internet connection, graphing the influence of Twitter strikes me as about as valid as graphing the influence of email.
About the liberal blogosphere, that dot cluster leads me to the exact opposite conclusion from what Kevin reached. The higher dots, presumably Kos, TPM and HuffPo, sit uncomfortably close to the nearest major news outlet. If I were a WaPo writer trying to pretend (like they always do) that online liberals don't matter I would not like that graph at all. More fundamentally, Kevin commits the multiplication fallacy by comparing the average influence score of a liberal blog (the center of Kevin's oval) with the influence of any individual news outlet. Kos may not have the influence of the Washington Post (yet), but established liberal blogs outnumber commercial news outlets by more than one factor of ten. If you want to treat the liberal blogosphere as an aggregate entity, then on aggregate the liberal blogs have a hell of a lot of influeence. If you multiply the number of dots down there by their average influence (assuming the Y axis values are scalar, which is probably wrong), the 'liberal blogosphere' data point looks like it could give Twitter a run for its money. Given how those dots can coordinate on an important issue, this graph tells me that liberal blogs have come awfully close to being a new wing of the fourth estate.
BTW, where is the conservative blogosphere? Maybe the analysts did not feel like using a log scale.
(*) Full disclosure – I did not dive into the internals because, unfortunately, I am not paid to blog and what I am paid to do is kicking my ass right now.
***Update***
Also, did you notice Stephen Hawking made it halfway up the Y axis? He is one guy who made something like two public comments on the matter. That suggests that there is a ton of untapped potential for celebrities (other than Jon Voigt) who want to spread the word.
***Update 2***
Another thing. Is it true that the New York Times presents a dramatically more positive picture of the NHS than the liberal blogosphere does? Paging Brent Bozell…