Many of you have asked about the dictionary function to the right. The point of it is to allow newcomers some idea of what the older folks in the comments are referencing when they make statements about things like "hoot-smalley" or "IOKIFYAR."
The problem, of course, is that you all can not edit the dictionary like a true mini-bjpedia, and only the blog overlords have that ability. So take this thread and write out definitions as you think they should be, and I will add the ones I think are best.
Also, I address the FAQ as often as possible, but I am seriously sick to death of "Were you really once a Republican?"
Yes. Yes, I was. Maybe one of you can work on that, but seriously, I just wish my archives would get corrupted for everything prior to Schiavo.
*** Update ***
Now this was just a cheap shot:
Tunch: Thought to compose up to 90% of the mass in the universe, but very rarely seen since the dog came along.
That simply is not true. There is simply no way Lily is overshadowing how much I love Tunch and how important he is to me. Look at this photographic evidence: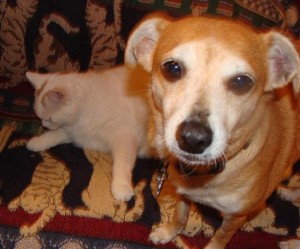 I'm totally going to lose this argument, aren't I?