I've spent the last four hours trying to find Tunch, who got out somehow, and I just give up. I have driven the neighborhood multiple times, looked everywhere, left food, and I just do not know what to do. I am beyond panic. If he comes home, it is of his own volition and there is nothing I can do.
The fat bastard.
*** Update ***
I sat outside like a deer hunter with multiple food traps. I finally caught him. Next time I am not freaking out and walking the neighborhood- I'm putting down food. Here he is downing the treats: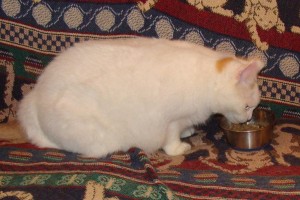 And yes. I cried. I am such a damned loser.