Remember yesterday when all the wingnuts were screaming that the White House was shutting out Fox news: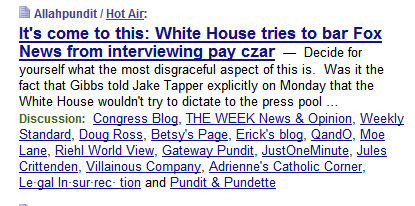 Allahpundit (who has now gone full metal wingnut) was apoplectic:
Decide for yourself what the most disgraceful aspect of this is. Was it the fact that Gibbs told Jake Tapper explicitly on Monday that the White House wouldn't try to dictate to the press pool who should and shouldn't be included — before doing precisely that? Was it Anita Dunn going out of her way to say she respects Major Garrett as a fair reporter — before the administration decided he didn't deserve a crack here at Feinberg? Or was it the repeated insistence by Dunn and Axelrod that of course the administration will make its officials available to Fox — before pulling the plug today?
The Weekly Standard was aghast:
The White House sent out an alert today to the press pool that "Pay Czar" Kenneth Feinberg would be doing a press availability— a round robin with the major news networks, in which Fox is customarily included. The administration specified that everyone was invited except Fox News, according to Bret Baier on "Special Report" tonight.
You know where this is going, don't you? IT NEVER HAPPENED. Fox made the entire thing up. Take it away, TPM:
TPMDC dug into it, and here's what happened.

Feinberg did a pen and pad with reporters to brief them on cutting executive compensation. TV correspondents, as they do with everything, asked to get the comments on camera. Treasury officials agreed and made a list of the networks who asked (Fox was not among them).

But logistically, all of the cameras could not get set up in time or with ease for the Feinberg interview, so they opted for a round robin where the networks use one pool camera. Treasury called the White House pool crew and gave them the list of the networks who'd asked for the interview.

The network pool crew noticed Fox wasn't on the list, was told that they hadn't asked and the crew said they needed to be included. Treasury called the White House and asked top Obama adviser Anita Dunn. Dunn said yes and Fox's Major Garrett was among the correspondents to interview Feinberg last night.

Simple as that, we're told, and the networks don't want to be seen as heroes for Fox.

TPMDC spoke with a network bureau chief this afternoon familiar with the situation who was surprised that Fox was portraying the news as networks coming to its rescue.
The question- when will these guys get tired of being made fools of by their media sources and their leaders?
Oh, look. Ed Morrisey. Wrong about everything. Remember when he even tried?
And more here.