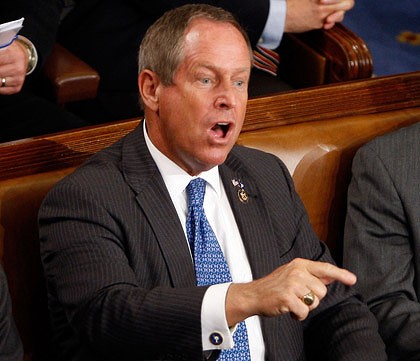 ***
The closing of this WaPo piece on the NY-23 affair really sums it all up:
Scozzafava, who was stripped of her Republican leadership position in the New York State Assembly on Monday, says she has no regrets and even leaves open the possibility of running for the seat again as a Republican. She sees herself as a champion of local expertise over ideological purity.

"How can Sarah Palin come out and endorse someone who can't answer some basic questions," Scozzafava asked. "Do these people even know who they are endorsing?"

Those conservative forces now descend on Florida, where former House speaker Marco Rubio, who on Monday received the endorsement of the Club for Growth, might shove aside centrist Gov. Charlie Crist, who was once on John McCain's short list for running mate. And Scozzafava has a warning.

"There is a lot of us who consider ourselves Republicans, of the Party of Lincoln," she said, her face now flush. "If they don't want us with them, we're going to work against them."
The funny thing about all of this is that no matter how bad all their ideas are, no matter how disastrous their governance has been, no matter how many horrible things they have done to the economy and this country, what really is killing the Republican party is that deep down, they are just complete assholes. You see it in the way they treat women, you see it in the way they treat minorities, you see it in the way they treat homosexuals, you see it in the way they treat anyone who is not a white Christian, and you see it in the way they treat anyone who disagrees with them slightly about anything. They just have no respect for anyone, and it shows. People don't like to be treated like crap, and grown-ups don't want to be associated with people who yell "You lie" or scream "socialism" or "Hitler" or accuse you of being a terrorist whenever they don't get their way.
If you read the Corner or the Weekly Standard, or listen to any talk radio or any of the mouth breathers on Fox, or read any right-wing blogs, you will instantly know what I am talking about. You can't help but notice that they are just loudmouthed jerks, stubborn bully boys, and insensitive and insecure cads. James Wolcott once wrote that Eric Cantor looked like the "pricky proprietor of the Jerk Store," and that could be applied to the majority of the prominent Republicans out there. I guess that should be suspected from a movement in which the only thoughts are "Fuck you, I got mine."
Seriously, how much time would it have taken for Hoffman to call Scozzafava after she withdrew from the race? But he didn't, because he was a petty wingnut outsider thrust onto the scene by teabaggers and national loudmouths, and the people who were nice to her got the endorsement and the win. There is a lesson here.