Couple of quick things:
1.) Not sure what is going on with Daylight Savings, and maybe my memory is just fading, but I don't recall it getting pitch black at 5 pm in previous years. Am I just not remembering?
2.) I'm a big fan of fruit, and every fall I am more and more turned off with apples. They just don't taste as good as they once used to- red delicious are red as hell, but gone is the sweetness I remember as a child. I'm working my way through some Braeburn's and some Sonya's, but I would kill for something that tastes like the Red delicious I had as a kid.
3.) My macbook has a cd stuck in it. Do any of you have experience with the geniuses at the Apple Store (and that is there name, genius, and not an insult). Will I have to pay or is it covered by the warranty (the macbook is only a few months old). Are they allowed to take the laptops apart on site, or will I have to go without for days? IF I have to pay, how reasonable are their prices?
4.) On a side note, the current version of Dreamweaver from Adobe is just awesome. Really like some of the changes and the additions from GoLive, now that Adobe and Macromedia are one and the same.
5.) Still really enjoying Dragon Age. Such a great game. I'm losing two-three hours a night and staying up too late.
6.) Need a new caffeine free tea for night. I've temporarily lost my taste for the Stash Peppermint I used to have every night, and I'm bored with chamomile.
Finally, a pet pic: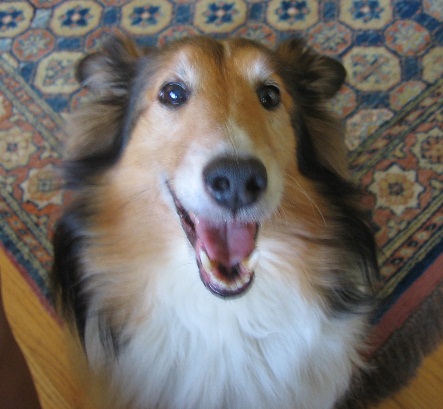 Enjoy.