One of the things I don't understand about the reaction to trying KSM and others is why people on the right are reacting the way they are. After 9/11, the general attitude was one of defiance- "we're gonna rebuild the World Trade Center bigger than it was before." I remember people suggesting we should build the new WTC in the shape of a middle finger to show the terrorists we won't take it: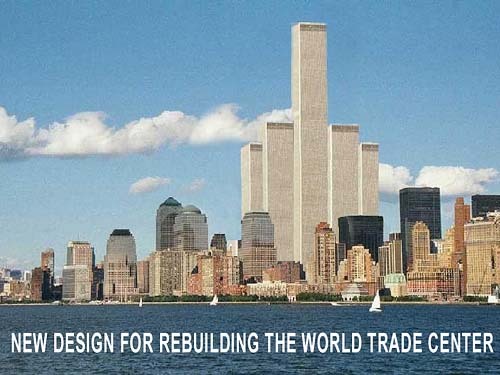 And who can forget Michelle Malkin's ridiculous I am John Doe Manifesto? That was just a couple years ago. What happened to the right wing swagger? When did they turn into such a bunch of scared wimps? When did they go from standing there in the rubble with George Bush and his megaphone to hiding under Dick Cheney's desk cowering in fear?
Personally, I can't think of anything more defiant than taking KSM, frog-marching him through Manhattan, giving him a fair trial, and then sending him to prison forever or executing him. That is how you show the terrorists that we aren't going to be fazed.
For goodness sakes, right wingers. Man up for a change. I honestly think I liked the belligerent cowboy right-wingers better than the diaper-clad bed-wetters we have now.