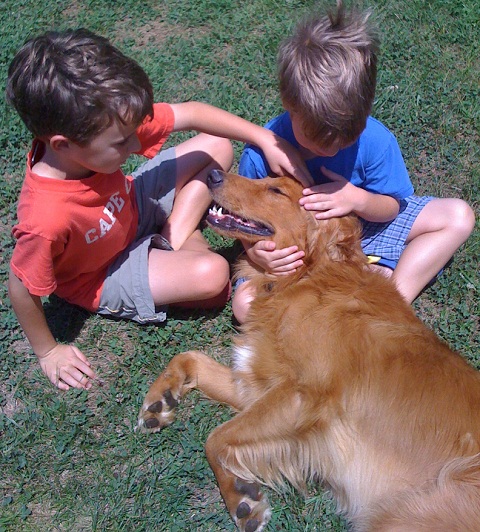 Kids and dogs go together like peanut butter and chocolate.
Here is another great story:
This is how I found Murphy, the Best Dog in the World. My kids and husband were ready for a dog long before I was. We already have two young cats, and my last dog was difficult to say the least. He was a shelter pup who turned out to have really dominant aggression issues—bit multiple people (including me) before we finally found the right training and routine for him. He never did become a lovey dog, and he was completely untrustworthy around kids, but we worked it out. However, that experience left me somewhat anxious about dogs—especially after we had kids.

This summer, I read all the details of the saga of JC looking for a dog, finding Missy/Lily, preparing for her to come home, helping her adapt, etc. I thought about how happy he seemed, and listened to all you snarky folks testify on the happiness your dogs bring…so I did some research, and found the local breed rescue for golden retrievers. It took me quite some time to make the move, do the paperwork and be evaluated…etc. When they called in mid-July and said they had a young male dog named Buddy (all homeless goldens are named Buddy, it seems), I was overwhelmed with worry. I thought, I don't know his past. What if he bites one of the kids? What if the fact that he's not neutered yet means he'll be aggressive, even after neutering? Etc. My husband and I went to meet him, and though he was very friendly and nice, I still wasn't sure. DH was ready to bring him home that day, but all my anxieties were making me fear dog ownership. Then we thought, OK, let's take the kids and see what he thinks of them. We told the children: don't run up to him. Let him approach. Don't grab, extend your hand fist down. Blah blah safetycakes. Of course, we got there, they ran flying up to this dog, grabbed him to pet him, and fell to the ground with him, where he flopped over and put his head in my 5-year-old's lap and started getting belly rubs. So much for caution.

We named him Murphy, and he is the sweetest, most easygoing creature on the planet. He came home to us skinny, with mats all over, three kinds of parasites, and his ears full of gunk. Despite the fact that he spent most of his early life tied to a tree in someone's yard, he loves everyone, including the cats (who only sort of love him back). He lets all the neighbor children pile on him, he loves to go places and see new people, he lets us do all grooming and stuff, and all he asks is cuddles and food. I feel like John said about Lily—this is one of the best decisions I ever made as an adult. Goldens are sort of the happy stoners of the dog world, and Murphy is even happier and more lovey than most.

Middle TN Golden Retriever Rescue, http://www.rescueagolden.org. I started volunteering with them right after we got Murph, and it's amazing to contribute to these wonderful rescue stories.

So none of you knew that your dog testimonials were helping this lurker along the road to dog life…but never fear, even when he ate my favorite red shoes, I didn't say "FY John Cole and Balloon Juice!" I just told Murphy, "who's a bad dog? You are! Yes, you are, you sweet thing!" Thanks, JC and BJ.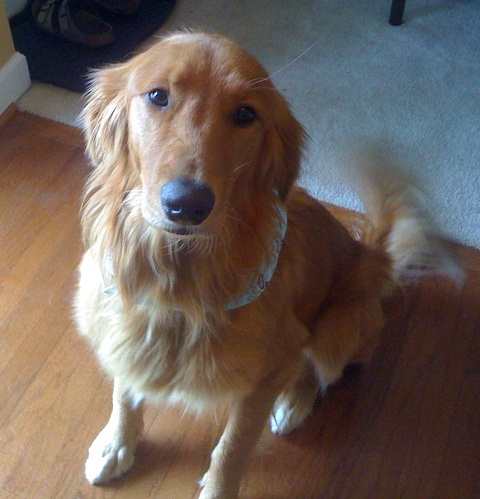 Going to be a fun few weeks, because we have a lot of these stories.