So why not treat yourself to a furry friend? Lots of adoption stories coming in, but I loved this one because it was a great story plus it had a picture of a pet in a compromising position, and I thought it would break up a dull afternoon: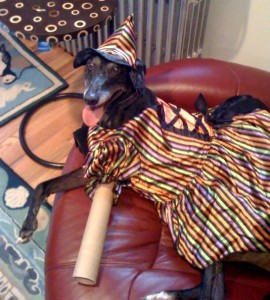 This is Dolce, she is a greyhound rescued from Ireland. She was hit by a car after being released from the race track because she was too small to race so we don't know her true age. She was found with a band of gypsies and a badly broken leg and an Irish rescue arranged with our greyhound rescue here in Mass. to fly her here for surgery. Unfortunately they could not save her leg and after multiple surgeries actually removed the entire leg and shoulder blade. This is her halloween costume and as you can see we gave her a peg leg, unfortunately she wouldn't wear the pirate hat, but she would wear the witch hat. She is a very happy dog and gets around great on 3 legs, she really has been a sweetheart. Greyhounds really are wonderful dogs.

The rescue we use is Greyhound Friends Inc. of Massachusetts. They are at greyhound.org. Since we banned greyhound racing in the state they have a lot of dogs at this time. There are 44 currently listed on their website and the rescue is not equipped to handle nearly that many, and we already have 2 in a 500 sq ft apartment. My wife won't let me get another one.
If you live in the area and think a Greyhound might be a good choice, you know where to go and what to do. But remember, pets are a lot of fun, but they are also a lot of responsibility and they cost money. They need medical care and food and attention and walks, so make sure you are prepared for the commitment.