Mein GOTT twitter is frustrating: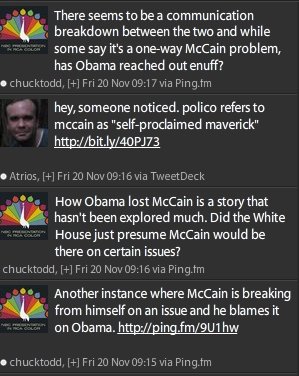 Yeah, the problem here is Obama has not reached out enough.
Some of these guys never learn anything, ever. John McCain has never been a maverick. He has never been a major player in legislation- his only signature bill is McCain/Feingold, and that is due in large part out of guilt and an effort to rehabilitate himself (Keating Five, anyone?). He flips and flops depending on what is best for him, personally, at that very moment, and some talking head somewhere will excuse his lack of consistency as "John McCain being a maverick" or "John McCain being John McCain" or some other nonsense. For chrissakes, he put Palin in a position where she could have been a heartbeat away from the Presidency. That alone should tell you that John McCain is in it for himself, and himself only. That is all he cares about.
So put two and two together, guys. John McCain is looking at a very tough primary against Hayworth and Simcox, a Minuteman, and he senses he needs to run to the right to shore up his flank. The Obama White House didn't "lose" John McCain, John McCain is just doing what he always does- looking out for himself.
In fact, you can almost bet that the next couple of months leading up to his primary, McCain will step up his criticisms of Obama, will become louder and more vocal and more strident, and will move to the right of his past stated positions and his alleged "core beliefs." And you know what else you can bet on?
Some beltway bobblehead looking at McCain's behavior and wondering- "Gee, what did the Obama administration do to piss off John McCain?"