I'm far more pessimistic about the future of this country after a few days of reading twitter feeds from our news elite. Here is Chuck Todd, after Reid gets the necessary votes to advance the HCR bill: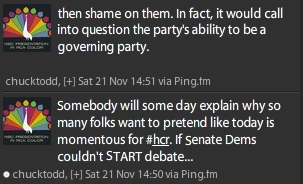 Shorter Chuck Todd: It's only big news if the Democrats fail!
I guess he didn't pick up on the fact that if they had failed to get the 60 votes, HCR would, for all intents and purposes, be dead in the short run, as the Republicans would filibuster. That is why this is such a big deal- they have overcome the obstructionism of the GOP, and the debate can advance.
Although in fairness to Chuck, he may be more concerned with why Obama didn't reach out more to President McCain. Not to be too subjective, or anything.
*** Update ***
Can anyone imagine the feeding frenzy for the next two weeks if they had failed to get 60 and advance the debate? Can you imagine the Sunday shows tomorrow? Can you imagine all the headlines speculating if Obama was a lame duck? "Senate fails to advance health care reform. Is Obama's entire agenda at risk?" and "Obama's signature legislation killed in Senate. Can he recover?" and "Republicans, spurred by sagging Obama poll numbers and grass roots support from tea party, stop Obama administration in their tracks."
And Chuck Todd would be leading the goddamned charge with that crap.