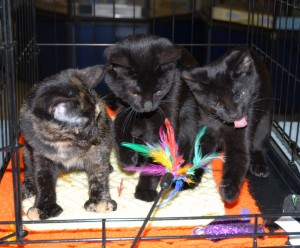 The first pic I attached is of my boys when they were little, before I adopted them. They are at an adoption fair with their sister. No one ever looked at them. Sigh. Black cats are very hard to place.

The second picture shows how even with two chairs in the computer room, I have to get a third one sometimes–and I live alone. Raven is in the computer chair, and Shadow is on the hard-back chair.

Here is a link to the agency:

http://www.felinerescue.org/

I thank the cosmos every day that I adopted these two. My life would be so empty without them.

P.S. I know the pictures aren't great. It's also very difficult to take pics of black cats, especially when you are photography-inept such as I.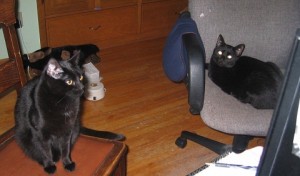 Consider this your open thread.
*** Update ***
sorry, forgot the second pic- I'm distracted.