I don't know what the weather is like where you all are, but it is pretty nasty here. Not a hint of a chance of sun today, and the entire sky looks like a three day old bruise or a smoker's cough or what I imagine it would look like in the world of Dire Straits' Industrial Disease. Just pretty depressing.
I did have a question, though, and I am a little bit embarrassed I do not know the answer. Now that the trees have no leaves, when you look up, you just see dozens of bird nests. I know that birds come back to the same area in the spring, but do they re-use nests? Or will most of them fall down before the spring without maintenance. I suppose I could google this, but usually you all know more than google.
Also, several of you in the mint thread the other day wanted to see a picture to see if it was pennyroyal, so I grabbed some this morning. It is most assuredly mint, and some of the strongest stuff I have ever had. I took this picture on a white piece of paper so you could see how deep the green is: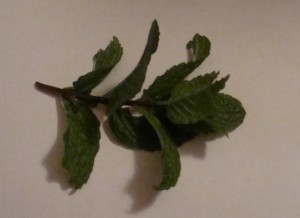 I have some stuff to take care of before going home tomorrow, so I will be back this afternoon, most likely. Use this as your open thread.