Now for something different: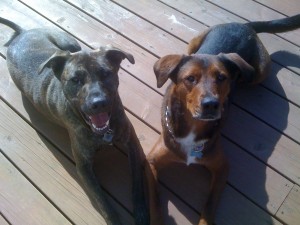 Adopted babes Ronin + Bella. Ronin (black-ish) came from a great organization here in Portland called Second Chance Companions – http://www.sccpets.com/ He's plott hound(bear hunter)/lab and needless to say hes…. Assertive. Bella(redish brown/black) came from the humane society – http://southwesthumane.org/. We know she is lab/something. I like to say lab/pretty – but maybe shepard of some sort. Best dogs ever. I'm glad you found yours.
Had enough of twitters and blogs. Off to bed.