Here is an example of the sort of nonsense you get every day from the newest member of the Pulitzer board: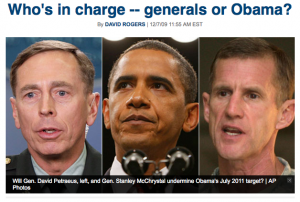 You gotta love it for what it is. Advancing the right-wing premise from last week that the Generals are in charge, all while ignoring the fact that constitutionally it is clear who is in charge, all wrapped up with a nice, tidy Cavuto mark (Hey- don't blame us, we're just asking!).
Journamalism.
I didn't read the article, but hopefully there will be an update on Obama's smoking, Michelle's arms, and what that unemployed idjit quitter from Alaska thinks about all this.
And then you have this…