I was showering this morning and thinking how negative the tone of this blog is so much of the time, when really things are pretty damned good. Blogging pushes you to point out everything that irritates you, and you gloss over or forget about all the really good stuff- the hot cup of coffee in the morning, the scalding shower, the clean shave, the freshly laundered sheets, the cold pillow, the purring cat, the really spicy burrito, the phone calls to mom and dad, the Steelers, and the happy dog. With that in mind, this: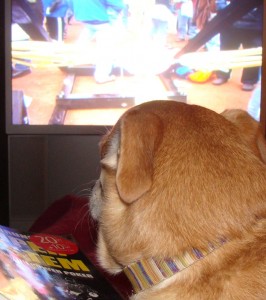 A lazyboy, a dog, a book, a quilt, and the mindless chatter of the food network (and because I know there will be forty people yelling "WHERE IS TUNCH," he is in his own chair to my right).
It is all pretty good when you think about it.
*** Update ***
I'm thinking we should steal an idea from Sully and have "The View From Your Couch/Lazyboy" series.