Today has sucked. I hope this makes it suck less: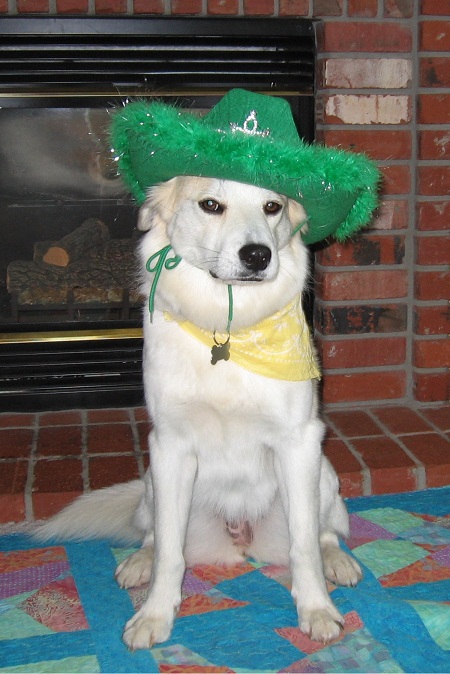 We always seem to adopt dogs that have a little too much personality. Our first dog was a beautiful black dog that doted on us almost as much as we doted on her. After she was gone, it took a lot of time before we were ready to welcome another dog. But when we did, our new dog became an instant and important member of the family.

This is Sunshine or as we affectionately call her, Crazy White Dog.
Sunny was rescued from Arkansas by the Camano Island Animal Rescue north of Seattle, WA. We found her through Petfinder.com (http://www.petfinder.com/index.html) a great resource for finding pets! We thought we were adopting a golden
retriever mix but 2 weeks after adopting her the yellow part of her
coat disappeared and we got Crazy White Dog(TM)

Note: Camano Island Animal Rescue found Sunny while adopting 2 other dogs from Arkansas. A trucker's network that transports dogs for adoption gave Sunny a ride to the Pacific Northwest (where it is not quite sunny).

When you look at Sunny, people often think, "what a beautiful and
happy face". That is how she pulls you in. Behind the good looks is a lot of crazy. There is a lovely path worn through the grass from her insistence on running in only one trail in the yard. She grumbles and complains through all her tricks. She spins like the Tasmanian devil after a bath, while throwing herself on the rugs to dry off. She sleeps in the shower after storms. She will only go to the bathroom in our yard, which is not so great for weeklong vacations.

Her favorite thing to do is run full speed at the sliding door to show her great desire to come inside. She sometimes scratches at the screen door for added effect. As soon as we open the door, she sprints away. It never gets old.

But she loves every person and animal she meets. She tells you a
story when you come home. She grabs your arms and makes sure you pay attention to what she is telling you. She entertains us with crazy runs through the house. And the whole family loves every strange and wonderful part of her.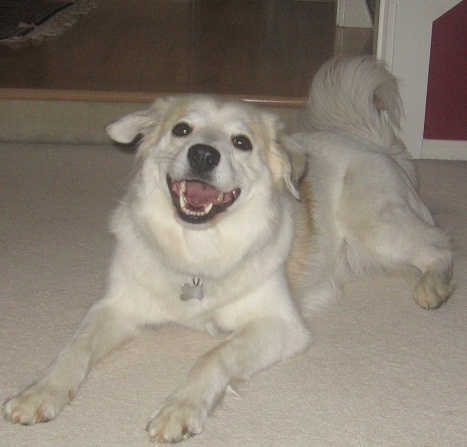 This is your open thread.