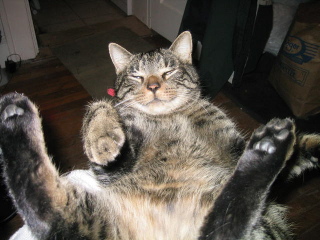 The story:
He's a ~10-year-old male tabby. This is a picture my husband took in his office with Jack in his lap. Jack likes to lie on his back, like a baby, but only for my husband. He holds him, and Jack will do that sleepy-love-double-wink cats do, then butt his big head up against my husband's chin, and press his cheek to his chest and purrPurrPURR. It is truly adorable. If he isn't waiting to come inside at 10pm, he comes to the sound of a bike bell rung twice. I didn't think my husband could train Jack to do that, but he picked it up right away, and knows the difference between my ring and my husband's ring.

He isn't a traditional rescue. Jack never went to kitty prison. We saved him from having to go, where I don't think he'd have survived–plain tabby, a year old, never had a vet visit, never neutered, no vaccinations in that time, so skinny, fleas, some scars from fights. When we picked Jack up from being neutered, I mentioned how sweet and talkative he was to the vet tech, she said he'd not made a sound–no meow, no growl, no purr–the entire time he'd been there. I knew then, we really had rescued Jack; he'd never have been picked in a shelter.

Six months before he became ours, before a cold front, we had bought a collar for Jack, put a note on it with our phone number, asking for a call if he had a home. The woman apparently held on to our number, because she called us to ask if we would take him, because they were moving and couldn't, and she didn't want to take him to the shelter. ("When are you moving?" "Tomorrow." "Who is your vet?" "We don't have one." "When were his last shots?" "Whatever he had we got him.")

Miraculously, he had no diseases despite living in an old, overgrown neighborhood full of wild and domestic critters and college students. But those bastards who owned him never brought over the food bowls and toys (note no bed was offered) like they said they would. And it took them a week to move everything out of the house–we had to go over after they left to pick up poor little limp-with-sadness Jack who just sat there in the yard staring at the driveway where their car had just been.

Jack acts like a rescue. He seemed surprised by the bounty of daily feedings, of always having dry food whenever he wanted to eat it. It took a couple of years before he figured out he could complain about an empty bowl and be given more food. If we put a foot out to block him going where he shouldn't (not behind the server!) and he cringed and tensed the way abused dogs do. Now we just say, "Get back, Bubba" and he does. He's getting better about not freaking out when we go away overnight.

He purrs more than other cats I've known, loud enough that I can hear him in my husband's lap even with the door closed between us. He tries to follow us on walks (walking with him doesn't quite work–we have tried), and often, he asks to come inside just to be pet then wants back out again. He loves being told he's a good boy, and he tried to teach me how to hunt chipmunk once. (He was disappointed when it nearly ran up my shirt and all I did was scream.) Whenever he gets anything new, or we wash his bedding so it's freshly fluffy again, he purrs and purrs and just exudes Happy. He's really excited about his new giant bed, and he doesn't yet know that it has a heater in it. It's been pretty warm here the past few days, so we're waiting for a cold night to introduce that. I bet he purrs like crazy.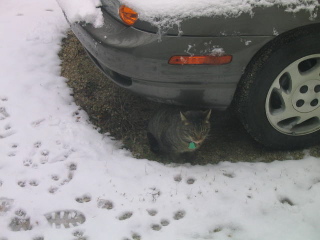 You are on your own. I'm sufficiently disgusted and demoralized from the day's events. Not enough that I would stay home in Nov 2010 or giddily repeatedly try to make a self-fulfilling prophecy by daily telling everyone how much the Democrats are demoralized, because I remember that the Republicans are nucking futs.
Besides, Firefox needs to update for the 87th time today. When did this browser turn to total shit?
Also, don't forget Radio Kaos from reader Rus at 9 Central.