1.) Ezra Klein–
Thanks to the magic of Google, it's easy enough to revisit the plan (pdf) Obama campaigned on in light of the plan that seems likely to pass. And there are, to be sure, some differences. The public option did not survive the Senate. The individual mandate, which Obama campaigned against, was added after key members of Congress and the administration realized that the plan wouldn't function in its absence. Drug reimportation was defeated, and a vague effort to have government pick up some catastrophic costs was never really mentioned.

***

But whether you love the Senate bill or loathe it, whether you're impressed by Obama's effort or disappointed, it is very hard to argue that the bill Congress looks likely to pass is fundamentally different from the approach Obama initially advocated. "The Obama-Biden plan both builds on and improves our current insurance system," the campaign promised, and on that, for better or for worse, they've delivered. You can debate whether Obama should have lashed himself to such an incremental and status-quo oriented approach, but you cannot argue that he kept it a secret.
There's a lot of dismay/rage on the left over Obama, a number of cries that he isn't the man progressives thought they were voting for.

But that says more about the complainers than it does about Obama himself. If you actually paid attention to the substance of what he was saying during the primary, you realized that

(a) There wasn't a lot of difference among the major Democratic contenders

(b) To the extent that there was a difference, Obama was the least progressive

Now it's true that many progressives were ardent Obama supporters, with their ardency mixed in with a fair bit of demonization of Hillary Clinton. And maybe they were right — but not on policy grounds. (I still remember people angrily telling me that if Hillary got in, she'd fill her economics team with Rubinites).

So what you're getting is what you should have seen.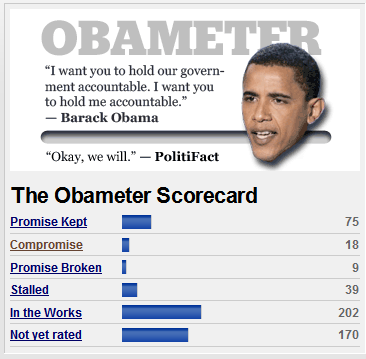 There have definitely been compromises, and there have been letdowns. There have been mistakes, and there have been broken promises. I'm not thrilled with the slow pace of Gitmo, I'm not thrilled about any number of things, but I see slow progress. But there have also been unrealistic expectations- Obama was always a risk averse, cautious, careful person- I remember the many discussions we had here regarding Obama as poker player versus John McCain and his reckless love of roulette, and we used to agree that a cautious poker player who studies the opposition and thinks long ball and treats us like adults was desirable.
I've said repeatedly that the only people who really believed that Obama was a left-wing radical were the people on the left who wanted him to be but refused to pay attention and those on the right who wanted to destroy him. I think I'm still pretty right, and it is why I'm not disillusioned. I think my take on the guy was pretty accurate, and still is.