You've been good, and we've been slacking on the pics, so here you go: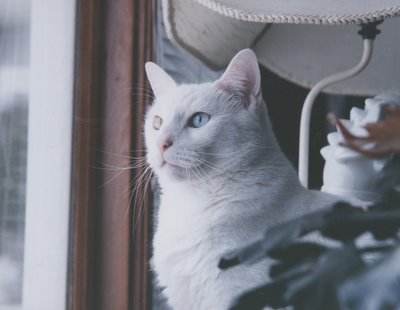 The story:
You would never guess that this beyond handsome cat with one blue eye and one blond eye came into our lives at roughly six weeks of age when we discovered him cowering under our back deck with his feral mother. His eyes were glued shut because of a discharge, he was riddled with fleas, all skin and bones and pretty much not long for the world.

We had one other rescue cat at the time. Kiko was a deceivingly gentle looking little puffball. She was quite territorial and despite her small size was a ferocious hunter who would drag home prey twice her size — or maybe just the creature's head — as an offering. Kiko could have killed Kimba in a heartbeat, but he brought out her nurturing side and he was soon doing quite well, thank you.

Today Kimba is seven years old. He's a couple cards short of a full deck, but loves us unconditionally. Last winter, we had one other rescue cat, Chin, who is mute and basically toothless, when Kimba started making a fuss. We investigated and there was a semi-feral cat of about 10 months staring in through the sliders below the deck. This cat kept coming back each evening for the food and water we left outside for him and he too seemed like he might not be long for the world because nighttime temps in the mountains were dipping down to zero and beyond. We eventually trapped this clawless kitty, whom we named Taj, a loveable lug who today also is prospering.

So there you have it: A cat with no teeth, a cat with no claws and a cat with no brains.
Enjoy.
BTW, since this is an open thread, I had one of the best salads I have ever made, and it was kind of an accident. I'm going out of town for business Friday morning, so I was sort of just trying to clear out the fridge so nothing would get wasted before I get back and do a grocery on Sunday, and used the following items:
some red lettuce
an avocado
the rest of a bin of bean sprouts
a half a papaya
a couple cherry tomatoes
a little bit remaining in a block of colby/monterey jack cheese
a half a small container of crab meat leftover from crab cakes
a taco shell
Threw it all in a bowl, added a little olive oil, some salt and pepper, a 1/2 a lime's worth of juice, and the rest of a container of salsa verde.
It was awesome. Also, don't forget our own Rus has his radio show tonight on Radio Kaos. That is always worth a listen.