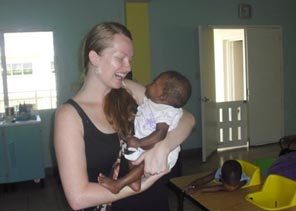 Commenter Comrade Luke passes along the sad news that his friend's niece died in the Haitian earthquake:
The family of 22-year-old Molly Hightower, of Port Orchard, was told early today that searchers found the young woman's body in the wreckage of the Haiti orphanage where she worked as a volunteer.

Her father, Mike Hightower, said the word the family had been dreading came in a phone call from the organization that runs the orphanage.

***

Hightower was a 2009 graduate of the University of Portland. Her majors included sociology and French. She arrived in Haiti in June for a year of service working for Friends of the Orphans, which operates with the help of several hundred international volunteers. She helped at an orphanage, at a hospital and also worked with disabled children.
Such a loss.