I've done something different today. Other than the Weather Channel for a few minutes this morning and about ten minutes of the Andy Griffith Show in the waiting room at the physician's office, I have not had my tv on once today. I also have kept blog surfing to a minimum. I gotta admit I'm in a pretty good mood.
And because if for no other reason than as an apology for that 900 comment abomination regarding Gruber yesterday, here is a pet rescue story: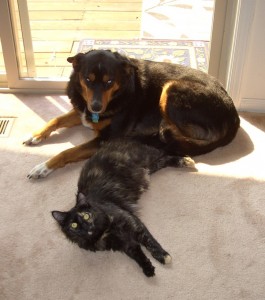 The story:
We found Max on petfinder.com, a great way to search multiple adoption sources in a particular area. His name at the Queen Anne's County shelter was Fletcher, which was the name of the deaf, epileptic (pedigreed) Dalmation we lost the previous year – kismet! Fletcher had been a classic high-maintenance dog, out the door at the crack of dawn or spend some cleanup time on your hands and knees, meds every several hours to keep him from spinning around like a rodeo bull, resting his head on your feet to be sure if you tried to move. So of course we loved him like a special needs child and his loss left a big hole in our lives.

Max turned out to be the best, lowest maintenance dog I've ever had. Disposition of a saint (a good one), patience of a shepherd, bladder like a camel's, healthy for his first seven years (only non-manifested Lyme Disease so far). We adopted Max as our son was entering high school so, for my wife, he's been the perfect pseudo-replacement for our now-living-on-his-own professional firefighter. She can still dote.

When we flew the empty nest on the Eastern Shore to the mountain west, Max rode in the car with Mom (w/safety harness) while Alpha drove the 22-foot belongings truck. While checking out the local shelter, High Sierra, for possible short-term boarding, we met Clio (then Amanda). She popped up in a window as we were leaving past the cat room – "pick me!" So we took Max in and Cloi came over and did the leg rub on Max like had been feeding her. She's beautiful and just like Max, sweet and innocent to make your heart smile. Oh, and last spring, the wife flew back east to collect the two little black 14-year-old rescued kitties we left with the boy when we moved. It's a bit of a zoo but we introduced Tina and Aretha to Cloi very slowly and methodically, as prescribed, and we're one big pretty entertaining family these days.
I'm off to watch Chuck. You all stay classy.