Because they can: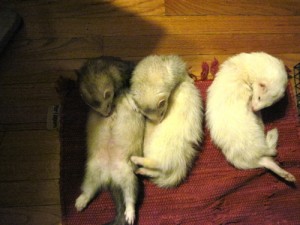 From left to right in photo: Bucky, Riot and Puck, grooming themselves obsessively.

When my husband and I first got married, we wanted a pet. He had had a dog when he was very little; I had never had pets of any kind, but I used to live with my aunt who had a fantastic pet rabbit, so naturally I wanted a bunny. We went to a pet expo in the area to look for a bunny, and my husband wandered over to the ferret table, run by the Greater Chicago Ferret Association.

Long story short, I lost the eventual bunny-ferret argument, and began a lifelong obsession with ferrets. Right now we have three: Puck, a great big white ball of lazy; Bucky, a goofy, affectionate dust mop of a critter; and Riot.

Riot's a, well, riot. When we brought him home from the shelter he was seven months old, all feet and tail and whiskers, and he got into EVERYTHING. He jumped every gate we put up to confine him, knocked over anything left on any surface whatsoever, and learned his name just from hearing it shouted at him from across the room. He once made a four-foot leap from the dining room table to the top of the piano. Yesterday he pushed a cardboard box over to the gate that's too high for him to climb on his own, and used the box as a step-stool to hoist his way to freedom. He's ruined every sweater I have with his tiny little claws and has saved me thousands of dollars in therapy bills by making me laugh every day.

I got sucked into volunteering at the ferret shelter, and the rescue is the only one of its kind in the country in that it operates a stand-alone shelter out of a storefront facility and not out of someone's house. The rescue takes in more than 250 ferrets every year and places them in adoptive or foster homes. They're operated solely by contributions and some small grant monies, and this year will move into a brand-new facility with room to care for more of these funny, inquisitive little guys. People buy them from stores thinking they're cage pets and they're not, they're very active, playful, interactive pets. Their vet care can also be pricey and so people give them up when they get sick which means the rescue bears the cost of caring for them.

It's a great organization and I'm incredibly grateful to it for giving me three little monsters who chew my shoes and hide my car keys every day. You can see more shelter ferrets, as well as pics of our new facility, at www.gcfa.com .

I'm off to go ice my shoulder and my knees. I'll throw up a shiny open thread in a little bit for the return of White Collar and other prime time shows.