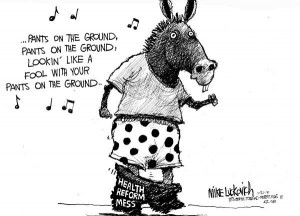 House Speaker Nancy Pelosi just told reporters that she does not believe she has enough votes in the House to pass the Senate health care reform bill as-is — at least not yet.

"I don't see the votes for it at this time," Pelosi said. "The members have been very clear in our caucus about the fact that they didn't like it before it had the Nebraska provision and some of the other provisions that are unpalatable to them."

"In every meeting that we have had, there would be nothing to give me any thought that that bill could pass right now the way that it is," she said. "There isn't a market right now for proceeding with the full bill unless some big changes are made."
According to Ed Schultz and other manic progressives, this means that health care stocks should plummet, because they were only pretending to be against HCR but actually wanted it to pass.
Considering Pelosi has been the only person in DC to regularly deliver the votes, you can probably just kiss off the rest of the agenda. Climate change, financial regulation- whatever. Done. The caucus will now spend the the year running for cover and running to the right because they will misread the election results in Massachusetts. This never was going to be easy, but the egos on all sides of the issue, the big money boys, and the special interests won out.
My only question- which house blue dog will be the first to introduce a bill extend the Bush tax cuts to show their bipartisanship?
*** Update ***
Dana Houle and others state we are being hysterical (not the funny kind) nitwits and should slow down:
Pelosi DIDN'T mean HCR is dead. In fact, she said the opposite. I'm sick of people wanting to be outraged and disillusioned.