This list of things that afflict pregnant women is enough for me to state that were I a woman, I would never, ever, ever get pregnant intentionally:
Oh your sweet little baby is healthy and moving around and kicking. You can feel him bumping around. It's magical.

HOLY SHIT! WHAT WAS THAT?

That? That crazy sudden pain that almost made you collapse? That feeling that someone just sent an electric fireball down your vagina and through your legs? That, my dear, was your sweet little baby kicking you in the cervix.

You can't prepare for it. You can't stop it. You can only hope that each time it happens, you are near something to break your fall. Or that you are in a place where no one cares if you scream.
I know we have a number of moms reading the site, including some very new members to the club, so you will have to tell the males here how accurate this piece was.
And speaking of new moms, I loved this new pick of Sam, spawn of Redkitten: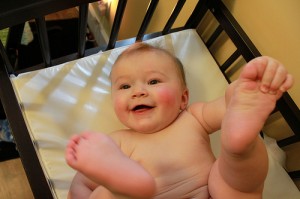 Look at that grin.