Admittedly this advice might come a little late for those of you stuck in the path of SNOWPOCALYPSE and SNOWPOCALYPSE II: The Quickening. Nonetheless, if you can get to a outdoor supply store I strongly recommend that you seek out a pair of gaiters to keep snow off your feet. Mine look like the pair below, but you can choose any kind as long as you don't get cheap skier models with no heel strap.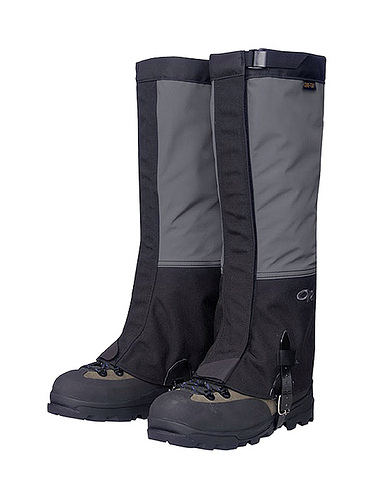 My Honda Fit is comfortably burrowed in an alley that might get plowed in March, so I'm walking around a lot. Thanks to gaiters in the last few days Dr. Mrs. Dr. F and I have waded through waist-deep snow for hours with warm, happy toes. Boots are nice but not critical; today I wore gaiters over leather dress-y shoes on the way to work.
Tip #2: Car floor mats do more than protect the factory carpet. If you get stuck spinning your wheels, kick or dig out the small hill of snow that has built up in front of your drive tires. If that works, great! If not, take out your back floor mats and lay them under your primary drive wheels in the direction that you want to go. The traction boost gained by this little trick will amaze you. I rescued four cars with the floor mat trick just walking around this weekend.