This latest from the WaPo contains precious little new information – apparently Americans tortured Binyamin Mohammed psychologically before we sent him to Morocco to be tortured the old fashioned way. I think that the article is nonetheless valuable for the glimpse it provides into the clearly unresolved debates over the word 'torture'.
To illustrate the point, I have pasted every sentence from the article containing either 'torture' or its euphemisms. Please note that Mohammed's psychological abuse clearly qualifies as torture under binding United States law.
The British government disclosed Wednesday once-secret details about the United States' harsh treatment of a former Guantanamo Bay detainee after losing a lengthy legal battle to suppress the information.
The information, from a judge's summary of a classified CIA report to British authorities about Binym Mohamed, said he was subjected to "cruel, inhuman and degrading" treatment during interrogations in Pakistan in 2002 that included him being shackled and deprived of sleep while interrogators played upon "his fears of being removed from United States custody and 'disappearing.' "
Arrested in Pakistan in 2002, Mohamed claims he was tortured by American authorities and others under U.S. instruction there and Morocco.
Mohamed claims Britain knew about his torture because, he says, information used on him during his questioning could have come only from British intelligence.
Reprieve, a legal organization representing Mohamed in a suit against the British government, said in a statement that the disclosures show that "the U.S. documented their efforts to abuse Mr. Mohamed" and that British authorities "knew he was being abused and did nothing about it."
Miliband denied the British government was complicit in torture.
Encouraged that the article mentions 'torture' several times? Or did you notice that every mention other than the first sentence entails a direct quote from some outside source? Congrats to those who went with 'B'.
It seems fair to ask why the Washington Post style guide still requires editors to use 'harsh treatment' to describe what inescapably qualifies as torture under U.S. law. Republican bamboozlement certainly plays a role, but GOP terminology doesn't always catch on (anyone remember 'homicide bombers'?). In my opinion the wind beneath this particular euphemism's wings is that Washington Post editors know particularly well what happens when you accuse the government of flagrantly violating U.S. law, especially laws as central to our ideals as a nation as the conventions against torture.
The WaPo needs clever euphemisms to avoid the inescapably ugly scene of declaring j'accuse!, Zola-like, every time they describe Bush-era detention policies. The trade-off is that every time they put off a reckoning, another piece of America's soul dies. Euphemistic torture and then real torture becomes that much less unthinkable.
Three polls taken since 2007 make the point as clearly as I ever could. Bars indicate the percentage of Americans who oppose waterboarding, a torture technique favored by Nazis, the Imperial Japanese army, the Inquisition and the Khmer Rouge. Even granting methodological differences (the last poll asked about a specific case rather than waterboarding as a general policy, and Rasmuessen characteristically tilts Republican) a trend seems hard to deny.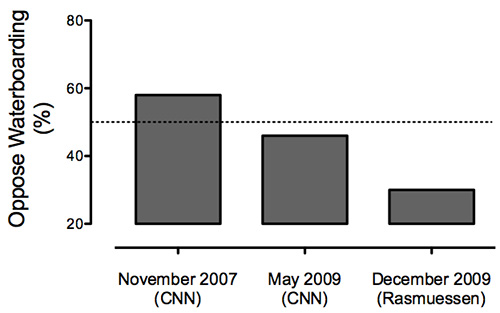 The next time abu Ghraib happens, the President may not feel compelled to apologize. I would consider that moment to be the death of America as its founders would have understood it. A government unaccountable to law in its use of torture and worse contravenes every principle laid out by Founders in the Constitution, in the Federalist Papers and in every other contemporary writing. I think it would give them cold comfort to know that they were right to the end, understanding as they did that the Hobbesian side of men in power will inevitably triumph without a vibrant and adversarial press corps to provide shame and transparency.