Just a reminder that the Balloon Juice store (all proceeds go to animal rescue) is now open: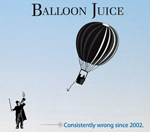 You can use that link, or you can use the permanent one to the right.
Also, in our excitement to unveil the store last night, we forgot to also thank commenters SGEW and Bartkid's help with the graphics. Sorry guys! And thanks!