Number of things:
1.) Many of you found yourself trapped inthe spam filter. I guess with the new version of WP, that was bound to happen.
2.) Really lousy day today. Tried to do too much, and by 11:30 wished I was back home in bed. Shoulder is aching, and I took something for the pain for the first time in a week or so. Called the Doc to ask if it was normal for people to still experience pain three weeks after surgery, and was informed that I am an idiot and most people are in pain for eight weeks. Duly noted.
3.) I have been blocked by David Sirota, Joe Scarborough, and John Aravosis on twitter, which I find amusing. I think this is the offending tweet for the Joe Scarborough ban: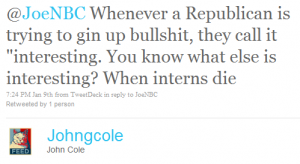 Not sure what brought on the Sirota ban, but I don't know why I even followed him in the first place. Glutton for punishment, I guess. Aravosis banned me because I told him a tweet calling Democrats homophobes in the wak of Cheney's BS yesterday deserved a #tcot (top conservatives on twitter):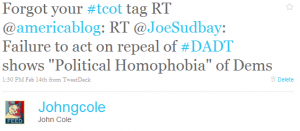 I gotta admit, I didn't see that coming. That is kind of weak.
4.) Can someone explain the difference between raid 0 and raid 1? Looking into purchasing a PC.
5.) With the retirement of Evan Bayh and with it looking like the Senate might even be in play, I gotta say- the suggestion to scrap HCR and starting over is turning out to be the quality advice I always thought it was in the first place.
6.) Don't forget the Balloon Juice store is finally open! Look to the right for the link.