So reconciliation is on, and this has the usual suspects all in a huff: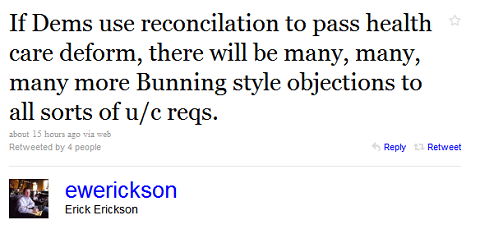 Putting aside the fact that they are not passing HCR through reconciliation, these guys don't even understand how threats work. Usually, to have some effect, you have to issue the threat PRIOR to engaging in the behavior. What could the Republicans possibly do that they haven't already?
We've already seen record numbers of filibusters and clotures. They've already used every parliamentary trick in the books to bog down the legislation. They've negotiated in bad faith, stalled, and then voted en masse against. They've lied and misrepresented everything the Democrats have tried to do. They even insisted that we wheel the near dead Byrd onto the Senate floor late night, and openly prayed for the death of another Senator. And now we are supposed to fear obstructionism?
Bring it on. Up until now, the Democrats have suffered because people don't really understand the concept of 60 votes, and have just wondered why Democrats don't just pass their bills. They've looked at Democrats as the parents of an unruly child who just don't have the nerve to get their kid in line.
But now, after the Bunning stunt, in which he wasted millions and deprived millions of needed aid, slowed down road construction, and made a bureaucratic nightmare of unemployment benefits, the American people got a glimpse of what is going on. One man had a hissy fit and thwarted the will of both parties.
So I say to Erick and the teabagging Republican Senators- bring it on. The neighborhood is starting to realize this is not just bad parenting, and now that the problem child isn't just a problem for the parents, but is running around slashing everyone's tires and generally making a mess of every damned thing, they are starting to pay attention. Even the media is running out of excuses and are starting to realize this isn't 1994, but 1996.
So, go for it. I double dog dare you.