The Times has a typically insipid and idiotic conversation between David Brooks and Dick Cavett on the topic of "trust". There was nothing especially noteworthy about it, but I was struck by this picture illustrating leaders/institutions who had abused the public's trust.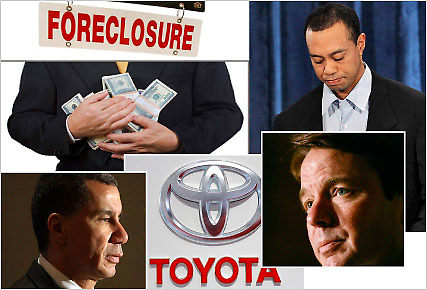 Don't get me wrong — Paterson, Toyota, and the foreclosure thing make sense. The alleged wrong doing in these case was exactly the sort that should upset the public. But John Edwards and Tiger Woods? Is it really news that rich men like to have affairs?
And of course, what's missing is a picture of Judy Miller. The Iraq war — both the propagandist run-up to it and the lack of planning for the war itself — shook public trust in institutions to the bone. But in all the endless handwringing conversations about loss of trust, that will never come up. The same way it will never come up in any discussion of the federal government's financial problems.
It's almost like it never happened.