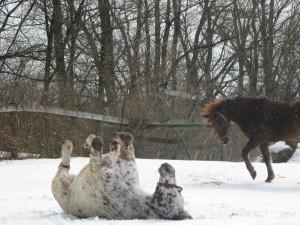 Well, a horsie. Tonight's pet rescue heartwarmer, from commentor Nicole:
This is Cosmo (he's the one on his back). I had no intention of acquiring him, or any other horse. Horse ownership is for people with money, land, or both. I live in New York, haven't owned a car in 20 years, and am decidedly middle-class. So, of course, when I turned 30, I decided what I wanted, more than anything else, was to learn to ride a horse. At the time, there was still a riding stable in Manhattan, and I spent every extra dollar I could earn on lessons. Then the stable closed and I bid a tearful farewell to the horses who had bitten me, stepped on me, thrown me, and otherwise made me google-eyed with adoration for the equine. That includes the one who broke my knuckle. But it never occurred to me to own one.

__
A year later, I met Cosmo at a trail-riding stable in Queens. There's no rhyme or reason to why you like one horse and not another (or why one horse likes you and another doesn't), but I can point to two moments with Cosmo. On my 36th birthday, I took Cosmo out alone for a ride. I was depressed about this birthday, my career, my life, and I moped through the first half of the ride. And Cosmo, who hates not being in the company of another horse, moped along with me. The second half of the ride, he turned into a thousand-pound cannonball, determined to get home to his friends, ideally at a full gallop. So we fought the rest of the ride- I wanted to walk; he wanted to run. And not once did I mope about where my life was going, because I was terrified I was going to die. When we finally got back, both of us covered in sweat, everything I'd been depressed about seemed idiotically trivial and I had a lovely rest of my birthday. And made a pledge to never, ever, make Cosmo go out alone again.
__
The second moment was on the sad day I showed up for a ride to find out this stable, too, was closing. My husband, who is not a rider, but will try his best because he knows I love it (if he were a horse, you'd call him "willing"), went along on a last ride, me on Cosmo, him on another horse. When we stopped for a break Cosmo sidled over and laid his head on my husband's knee. My husband looked down, delighted at the spontaneous affection, and Cosmo then wiped his mouth on my husband's jeans, leaving a trail of spit from thigh to ankle. You'll never convince me horses don't have a sense of humor.

__
I told the stable to call me if they couldn't find a place for Cosmo. They quoted me a sale price but told me that several people were interested in him. I was happy other people wanted to take him and that I didn't have to worry about where he was going. Three weeks later they called and said the other people had fallen through and quoted me a price one-third of the first one. I said I'd think about it, hung up the phone, said, "I can't do this," and realized I had photos of Cosmo and me all over the apartment. Love is a powerful, and financially challenging, emotion.
__
And so, after endless phone calls, health certificates and finding out the horse is considerably older than claimed (there's a saying, by the time a horse dealer says, "Good morning," he's already told you two lies), Cosmo, along with another of the horses, who now belongs to my riding buddy, were on a trailer, driven by a guy from Germany who spoke little English, to my uncle's, who is kindly boarding them at cost for as long as his health will allow it. And I'm worried I'm in over my head, and that, with a baby on the way, I can't afford this. But last weekend I went to visit and we took Cosmo and his friend out into a paddock and turned them loose- the first time in years they haven't been standing in a stall or being ridden. The two old geldings ran and jumped and made snow angels. At one point, Cosmo walked over to me, put his nose in my hands and we stood quietly for a few moments. And I bawled like a little kid, grateful for this animal I never intended to own. And then my horse trotted off to roll in the snow again.
May you, Cosmo, and the rest of your growing family enjoy many happy years together, Nicole.