Both DougJ and I have been posting on the brick throwing in Rochester, where Congresswoman Louise Slaughter's office and the local Democratic headquarters had windows broken. Here's the note that was attached to the brick that went through the Democrats' window.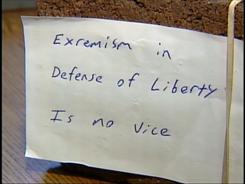 Now local TV station 13-WHAM reports that Slaughter received a death threat: "Assassinate is the word they used…toward the children of lawmakers who voted yes."
The morans who threw the brick are responding to posts on a teabagger blog called "Sipsey Street Irregulars". The guy who runs the blog is on Social Security disability, of course, and he's really a peacemaker:
Now I did not call for the vandalization of the windows of congresscritters, only local Demoncrat party HQs. But I can certainly understand why someone would.

I am trying to prevent civil war and communal killing, not start it, by warning those who do not understand the unintended consequences of THEIR actions.