Been kind of out of it the last couple of weeks, what with rehab, the move, and work, but I finally remembered to bring the camera with me to the new place. Here is Lily checking out the new carpet: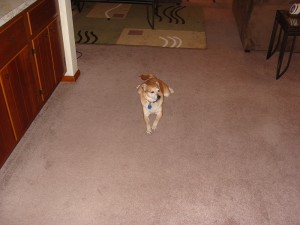 As you can tell, no granite countertops. Also, Tunch now has a bay window to sit in, and I am going to put a bird feeder right outside it to keep him occupied.
BTW- does anyone remember all the taglines we have used so far? I remember Massa Massage, I showered with Rahm and all I got was this lousy blog, All Your Base Are Belong to Tunch, and I know there were more. Going to set it up so it rotates.